Houston Medical Malpractice Attorneys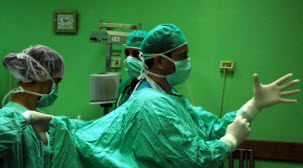 Medical malpractice claims are highly technical and complex. If you have been injured by the negligence of a medical professional, you will need an experienced attorney who knows how to uncover evidence, negotiate effectively and persuasively argue your case at trial, if necessary, to vindicate your rights.
At The Freeman Law Firm, we have helped many people who have suffered an injury as a result of medical malpractice. We aggressively seek maximum compensation for people injured as a result of the negligence of doctors, nurses, hospitals and hospital staff. We handle a wide range of medical malpractice claims, including:
Failure to diagnose and misdiagnosis
Doctor negligence and nurse negligence
Hospital negligence
Emergency room negligence
Surgical errors
Medication errors
Our attorneys handle medical malpractice claims throughout Texas. To speak with an attorney at our Law office in Houston, call 713-973-1000, or contact our Houston medical malpractice lawyers online.
Don't Expect Your Doctor to Admit Fault
If you have been injured by a doctor, nurse or hospital, don't expect them to do the right thing and simply admit their fault. To the contrary, they will deny responsibility and claim that they provided quality care.
They will not admit that they were negligent, understaffed, careless or inattentive. They will have access to top attorneys and medical professionals who will provide reports denying responsibility for your injuries.
Leaving No Stone Unturned
To overcome the opposition of doctors, nurses and insurance company attorneys, our firm performs an exhaustive review of the facts in each case we handle. We enlist the services of medical experts. To give clients the best opportunity for success, we prepare meticulously for the possibility of trial in each case we handle. We leave no stone unturned in our effort to find necessary evidence and seek the compensation our clients deserve.
We understand how to request and read medical records and utilize the assistance of experts when necessary for complex medical claims. Due to our experience in medical malpractice claims, we know what to look for and how to proceed prudently.
Contact Our Texas Hospital Negligence Lawyers
To speak with a lawyer at our Law office in Houston, call 713-973-1000.