Is a Semi-Truck Accident More Likely to Cause Injury?
Posted in Car Accidents,Distracted Driving,Driving Safety,Drunk Driving Accident Victims,Motorcycle Accidents,Semi-Truck Accidents on May 10, 2016
Accidents involving semi trucks can be very traumatic. They weigh between 16,000 to 20,000 pounds, making their accidents much more dangerous than accidents involving cars. In fact, semi trucks are five times more likely to cause serious injury or even death than an accident involving two cars. If you've been injured in an accident involving a semi truck, there are a few things to know before you file a lawsuit.
Finding negligence in a semi truck accident
In order to have a case in a semi truck accident, you have to be able to prove there was negligence either by the driver or by the company. First look at the company and find out if they comply with the federal and state regulations. Many times there are two regulations that are swept under the rug. The most violated regulations are: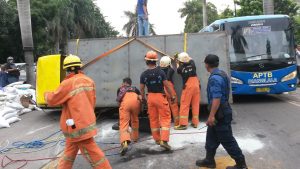 Commercial drivers license regulations –in order to obtain this license a driver must pass a number of tests. These tests comply with the type of truck the driver is driving. The heavier the load of the truck, the more difficult the test. They must also pass a drug test and physical exam before being allowed to drive a semi truck. Many times companies allow drivers to drive before passing these tests.
Log book regulations – drivers must keep a log to record their hours driven, their load sizes, dates picked up and dropped off and such. Many of these logs go undone and unchecked.
You can also find proof of negligence in other regular violations. Below are things to check when looking for evidence of negligence:
Was the driver's CDL license was active or suspended?
Does the driver have a criminal record?
How many prior tickets has the driver received?
How many accidents has the driver been in?
What is the driver's financial background, including outstanding debts and judgments?
Was the driver's cargo load over the legal limit?
Was the driver driving over the allotted legal number of hours?
Did the driver veer from the intended route and destination?
Was the driver under the influence of narcotics or medication?
Was the driver drunk or high from alcohol or drugs?
If you have been involved in a semi truck accident, speak to our attorneys about your case here.