What Different Weather Conditions Does to Semi Truck Driving
Posted in Car Accidents,Distracted Driving,Driving Safety,Semi-Truck Accidents on June 23, 2016
Dangerous weather conditions are one of the most common causes of trucking accidents. Weather can affect the handling of the truck as well as the driver. Because of this, truck drivers are required by law to use extra caution while driving in dangerous weather. This article explains the weather conditions that can affect a semi truck driver and how drivers are responsible for driving in these conditions.
Dangerous weather conditions and Semi Trucks
As you may have experienced, bad weather conditions can make it difficult for anyone to drive safely. These conditions make it even worse for truck drivers hauling large trailers and they play a large role in trucking accidents. Weather conditions that can lead to trucking accidents include:
Rain
Fog
Snow
Sleet
High winds
Heat
Dust storms
How heat affects semi truck driving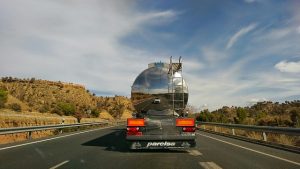 Although most might not think that heat would affect semi trucks, it is a significant factor for drivers and their trucks. Hot weather makes a tire blowout more likely in large trucks, and a tire blowout can likely lead to a rollover. Heat can also give the driver fatigue, which is the most common contributing factor in trucking accidents.
How high winds affects semi truck driving
Very high winds can cause the smallest of cars to lose control on the road. Large semi trucks are more affected by wind than any other vehicle and when a big rig is hit by a gust of wind it is very difficult for the driver to get the truck back under control. If the truck starts to sway it can cause s chain of events that even the most experienced driver can't avoid, leading to a rollover accident.
A semi truck driver's responsibility while driving in dangerous weather
Although truck drivers cannot control the weather, they can control how fast they drive and when to make the decision to stay off the road all together. Commercial drivers are always expected to take extra precautions when driving in hazardous weather.